Not sure how to invite your crush to homecoming? Want to surprise the love of your life with a unique and memorable homecoming invitation? Then look no further than this list of proposal ideas. You'll find all kinds of themes that will help you make this moment special, ranging from movies to sports to food. Take a look and see if you can find that perfect proposal that is sure to get a positive response!
OMG!! The most amazing, cutest and hilarious couples' hoco proposals ever!!
Take a look, you will soon be taking your dream date to the prom. We promise!
Creative lucky duck idea
Looking for a fun and unique way to ask someone to the prom? Then this idea is for you! For this proposal, a small pool has been filled with ducks and there is a sign that reads "I would be one lucky ducky if you would be my date". This is such a cute idea and it is something your date will remember.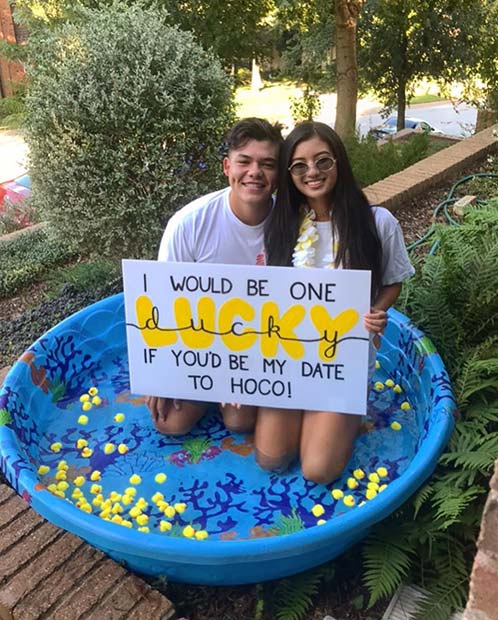 Prom proposal flowers
Flowers never fail to impress. That is why our next prom proposal features a stunning floral idea. Here we have a vase of beautiful flowers with Scrabble-themed signs that read "Will you go to the prom with me?". You can choose any signs and flowers for your proposal. Maybe choose the special person's favorite flowers or their favorite color for the flower arrangement.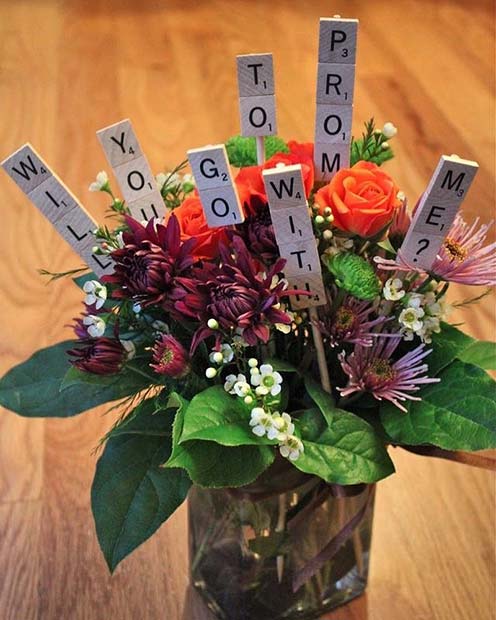 Cheesy pizza prom proposal
Our next idea is perfect for anyone who loves pizza. This proposal features a pizza with a cute message inside. Not only does the special person get a nice surprise, but a free pizza too! Make sure you choose their favorite topping and you can personalize the message.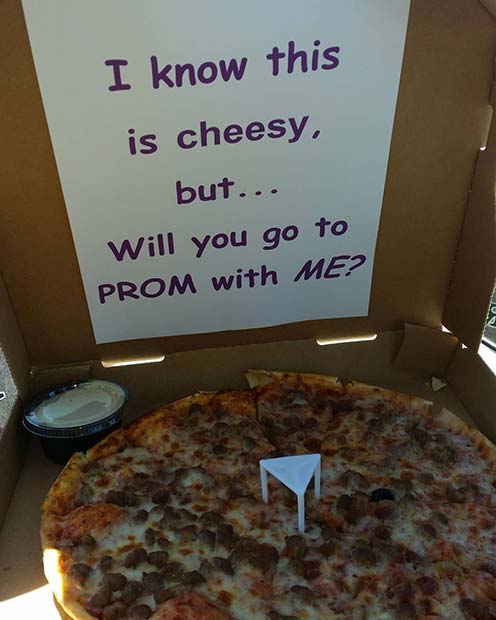 Hoco proposal cookies
Make your prom proposal sweet with cookies like these! There is a box of cookies that have a prom theme. One of the cookies asks the question and there are cookies with answers on them. This is such a cute idea and it will be delicious too. If any of you like to bake then try to create the cookies yourself to propose extra special.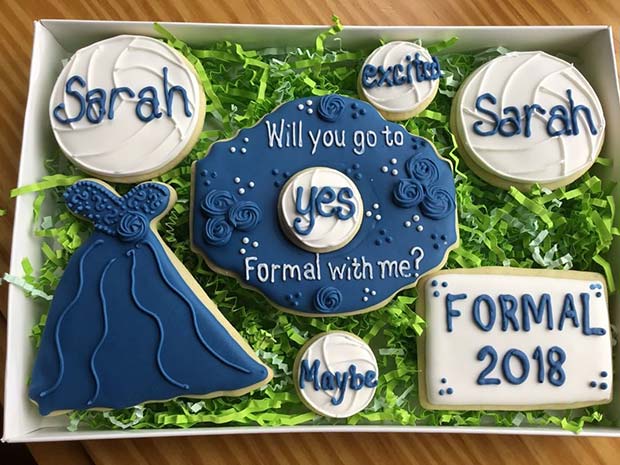 Funny vegan idea
Is your perfect prom date a vegan? Then this is perfect! Here we have a funny and cute proposal idea. Someone has dressed up an avocado with a sign that reads "I can't vegan imagine prom without you. Will you avocado with me?". This is unique, awesome and will make the occasion happy and full of fun. Dressing up is optional!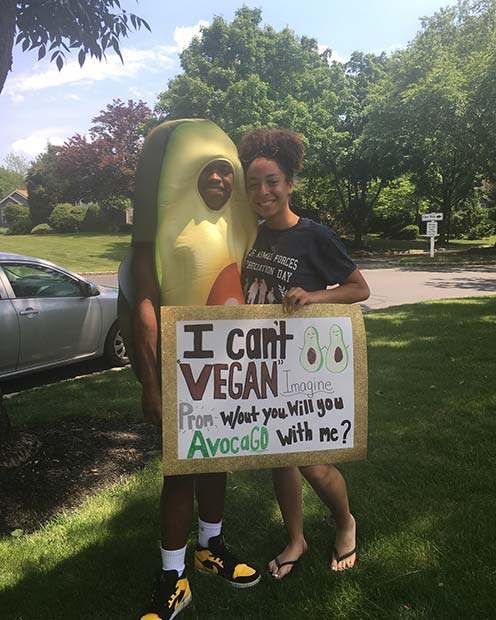 Beautiful floral proposal
Next, we have another floral idea. Here we have a large lettered sign that spells out prom. Each letter is covered in sunflowers. This is a beautiful way to ask someone to the prom. You can make something like this yourself if you like crafts. Also, try to choose the person's favorite flowers to create your sign.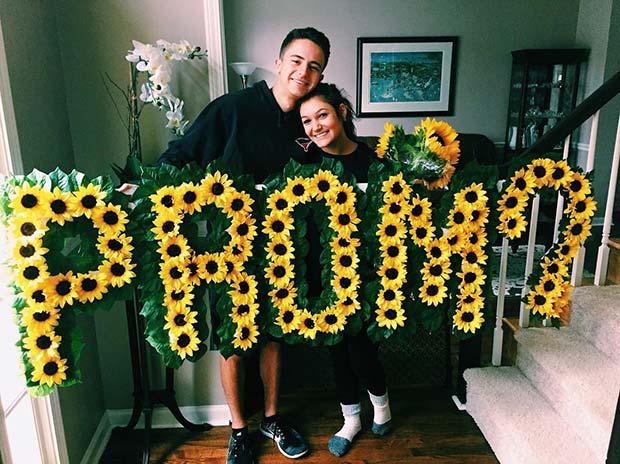 If you're into sporty types who are looking for a way to ask you to hoco, this is for you
Baseball
To get into the baseball theme, decorate your poster board with a couple of baseballs, bats, and gloves. You can also cut the poster board into the shape of a base.
I might strike-out asking, but will you go to homecoming with me?
Can I steal you for a date to homecoming?
You've caught my attention, so let's go have a ball at homecoming!
I'd have a home run if you went to homecoming with me!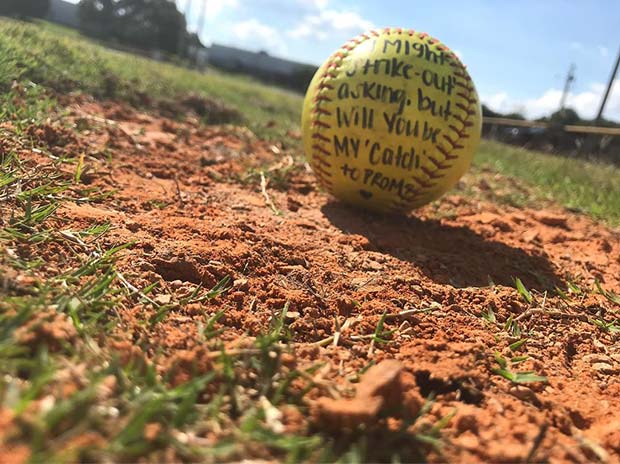 Soccer
Does your crush bend it like Beckham? Write one of these messages on a soccer ball and kick it their way—they'll be sure to pass it back with a positive answer!
It's my goal to go with you to homecoming! Wanna go?
Will you kick it with me at HC?
It's my goal to kick it with you at HOCO. How about it?
Tennis
Asking a tennis player to the big homecoming dance? Here's the perfect way to ask!
Disney Hoco Proposal Ideas
Beauty and the Beast theme
No matter who you're asking, we're here to help inspire you with ideas. We hope they spark your homecoming imaginations!
What could be more classic and romantic than a Beauty and the Beast-inspired proposal? Here are some ideas to enchant your date:
Arrange red rose petals to spell out: "Prom?"
Enjoy a candlelit dinner followed by a dreamy slow dance under the stars.
Plan a trip to the library where your crush opens a Beauty and the Beast book and, voila, there's a prom message inside like, "Let's book a prom date together!"
Arrange a flash mob with friends singing a personalized rendition of "Be Our Guest." Your friends can dress as dishes, spoons, and even the grey stuff! It would definitely be unforgettable.
Perhaps a simple poem with a bouquet of red roses would be more your speed? How about:
Roses are red
A Beauty are you
Be my prom date
And my dream will come true!
The Little Mermaid theme
If you want The Little Mermaid to be part of your promposal world, here are some ideas:
Spend a day warm on the sand where your date can discover a message written on the beach, or hide a promposal in a sand castle.
Not near a beach? Throw a pool party with an "Under the Sea" theme! Invite friends to help make the occasion extra fun and festive!
Blow bubbles as you say, "Life is the bubbles when we're together. Float to prom with me?"
Put on a mermaid tail, sit in a kiddie pool, and say, "We were mermaid for each other! Prom?"
Consider using other fun lines like:
"I'd be a poor unfortunate soul if you didn't go to prom with me!"
"Be a part of my world at prom?"
Tangled theme
If you've got a dream to create a promposal that Rapunzel and Flynn Rider would be proud of, ponder on these ideas:
Make your crush a Wanted poster, like Flynn Rider's, and post it around school! It could say: "Wanted: You As My Prom Date!" Or "Wanted: For Stealing My Heart!" (Make sure to insert a picture of your date!)
Paint or use sidewalk chalk to make a mural on your date's driveway asking them to prom. Or, plan to go on a walk where you and your date "randomly" stumble upon your sidewalk promposal masterpiece! Your message could say, "I'd gleam and glow with excitement if you'd go to prom with me!"
Get a fog machine. Create fog. Wait for fog to clear. Then say, "The fog has lifted and at last I see the light. We should go to prom together!"
Find a way to incorporate Pascal and say, "You're one in a chameleon! Go to prom with me? Together we can make prom the Best. Day. Ever!"
While showcasing your smolder, declare: "I know not who you are, nor how I came to find you, but may I just say…be my prom date?"
Aladdin theme
If your wish is to stay one jump ahead of the promposal trends, consider these fun ideas:
If you're feeling flashy, plan an elaborate Prince Ali-inspired grand entrance into a room where your date is waiting. Friends can help make the event extra exciting!
Dramatically stand at the top of a staircase and declare, "It's crystal clear from way up here that we don't need a magic carpet to have a magical time together at prom! Be my prom date?"
Plan a magic carpet picnic featuring a loaf of bread and some apples to share. Make your date smile by saying something like:
"You're not a prize to be won, but you've won my heart! Prom?"
"It would be an indescribable feeling if you'd go to prom with me."
"My wish is for you to come to prom with me."
"I ain't never had a friend like you! Grant my wish and be my prom date."
"If you trust me, take my hand to prom."
"When I'm with you, I feel like I'm in a whole new world! Let's fly to prom together!"
Winnie the Pooh theme
A prom-Pooh-posal would be sweeter than honey! Here are some thoughts to think, think, think about:
Take a walk through the woods with your date and exclaim, "I would walk one hundred acres to take you to prom!"
Go out for a sweet treat. If you don't have honey, any dessert will do! Then say, "It would be sweet if you would bee my hunny to prom."
Wearing a red shirt is a must. Then convert a bucket into a "hunny" pot and say, "Prom without you would be like a hunny pot without a single drop of hunny inside."
Plan a Pooh-themed scavenger hunt, leaving Pooh clues (Like "hunny" pots, a single red balloon, flowers, etc.) that lead to a promposal message like:
"I can't think, think, think of a sweeter prom date than you!"
Frozen theme
Get the snowball rolling with these heartwarming Frozen suggestions!
Take your date ice skating. Or treat yourselves to snow cones. Or ice cream. Or just…go somewhere cold. Then say, "If I were a snowman, you'd be worth melting for!"
Make two cold sandwiches…and then finish each other's sandwiches.
Then open a door and declare that, "Love is an open door with you! So let's walk through the doors at prom together!"
Other promposal lines to give your date happy chills:
"Can I say something crazy? Will you be my prom date?"
"I might be a bit of a fixer-upper, but I'd love to get fixed up to go to prom with you!"
Moana theme
We know you know the way to making a good promposal impression, so consider these suggestions:
Arrange a romantic boat ride with your date and say, "You have my heart, so let's set sail to prom together!"
Impress your date with a hula dance, preferably by the water. You'll get extra props for wearing a hula skirt and asking, "Heihei, do you want to go to prom with me?"
Attach a promposal message to a coconut and leave it in your date's locker!
Star Wars theme
May the force be with you when you ask your date to prom.
With lightsaber in hand, say,"Take my Han so I won't go Solo to prom."
If Yoda's wisdom inspires you, tell your date, "To prom with me will you go?"
Up theme
If your promposal ideas need a lift, here are some UP-lifting ideas!
Customize a mini mailbox (or decorate your date's real mailbox) Carl and Ellie style, complete with your names and handprints. A promposal note can be inside!
Skip flowers and arrange a colorful display of balloons! To make the moment really pop, a prom note could be inside one of the balloons. Your note could say:
"A prom adventure is out there. Are you UP for going with me?"
"I'd wear the cone of shame for you. Go to prom with me?"
"Let's fly up to prom together!"
Insta-Worthy Hoco Proposal Ideas
Tag your bestie
A keepsake
Flag football
Flowering & Twinning
Best Hoco proposal videos: And that they can be re-enacted in your school
Never be the same
Xc boys
Boyfriend challenge
Hoco date
Hoco surprise
Crusader
Truly homecoming
"For my fans"